"When will we realize that the fact that we can become accustomed to anything, however disgusting at first, makes it necessary to examine carefully everything we have become accustomed to."
George Bernard Shaw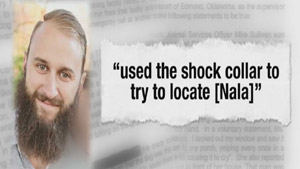 by Jessica Holley, April 4, 2016
excerp..."According to court documents, Nala's trainer, Lukas Miller, admitted to the officer he "used the shock collar to try to locate [Nala]" and "turned up the collar" in hopes of finding the dog. Full article here
start of page
---
Man faces charges after shock collar damages dog's vocal cords
The Augusta Chronicle Dec. 27/16 Bianca Cain Johnson
A dog owner is facing animal cruelty charges after veterinarians discovered his pet's vocal cords were damaged by a shock collar.
The veterinarian told police that James Lee Long, 59, dropped off his 8-month-old dog to be neutered Friday. According to the report, the dog had a terrible odor and two spots near his neck that were stained from draining wounds. Police discovered the owner had zip tied a shock collar to the dog's neck to make it tight, causing the two shock prongs to puncture its neck. The vet told police it appears the puncture, plus the subsequent shocks, resulted in permanent damage to the dog's vocal cords.
Long was booked into the Columbia County detention center on a charge of cruelty to animals. Animal Control took possession of the dog.
start of page
---
Local 10.com Miami Florida April 27/15
Once again, an unsuspecting pet owner comes home to find their dog has been severely burned while being boarded with a highly recommended pet sitter.
start of page
---
August 21, 2015
By Mike Thomas
Excerpt… at Sit Means Sit in St. Peters. Videos of the alleged abuse were submitted to St. Charles County animal control officials. Authorities allege that Labath knowingly used a shock collar device to cause pain and suffering to two Labrador retriever mixes and an Irish Setter. In the video, he was reportedly seen misusing the shock collar by administering repeat shocks causing the dogs to yelp in pain. Authorities said one of the dogs was also grabbed by the collar and swung around Labath's body and then slapped in the fac.... Full article here
Shock Collar Abuse at Sit Means Sit - Warning Disturbing
start of page
---
excerpt…Roman Chapa has a checkered history as a jockey and has been suspended twice before for buzzing horses... Full article here
start of page
---
March 1/16
We apologize if these photos offend anyone but we strongly feel this girls story should be told. This afternoon a member of public bought to our attention that he had found a dead dog that had been put over the wall into woodland just off a road near Woodhouses. She had already been placed in bin liners and just left. We went and collected her and placed her on a comfy bed in the back of our car. Once at the shelter we checked her for a microchip but of course she didn't have one. We were even more shocked to find she was wearing an electric shock collar and it was clear she'd had many litters in her time. This has been reported to the police and she has been checked over by a vet. It would seem she was underweight and not in the best condition, her nails were also very long so we would suspect she hadn't been out for walks very much. We decided she at least deserved to have a name so we had called her Gracie. Does any recognise this dog? Please share so we can locate her owners. Rest in peace Gracie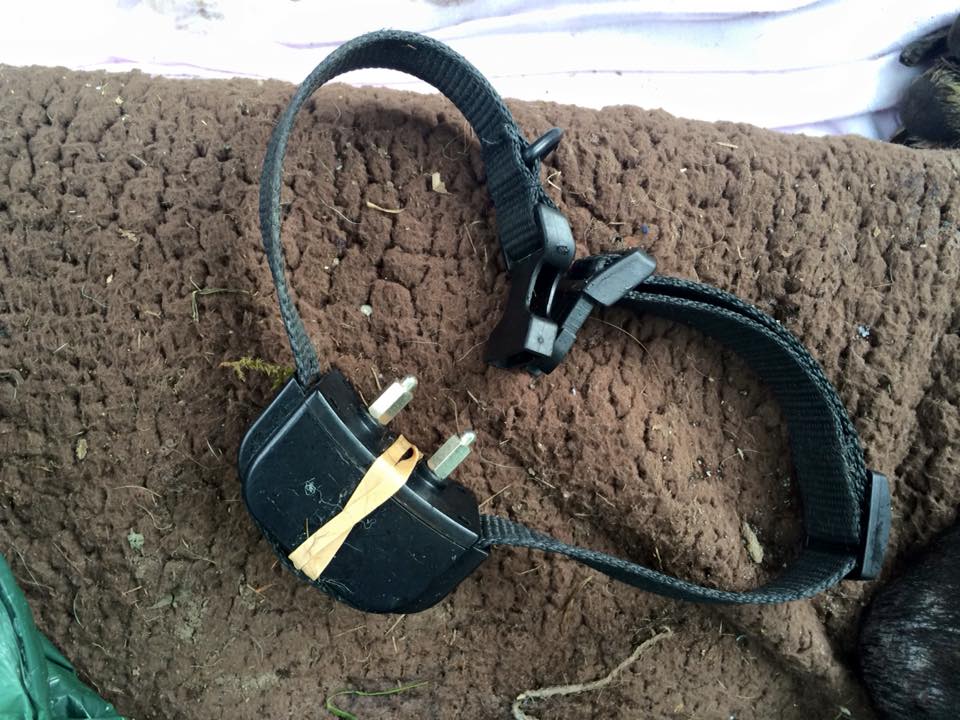 Photo: Millstream Animal Shelter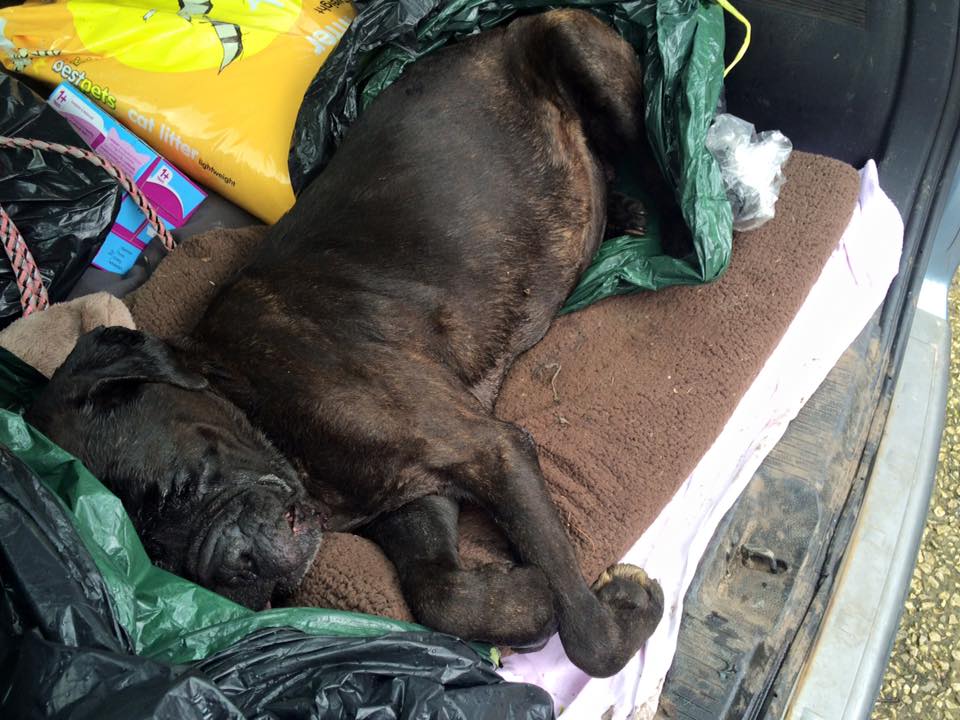 Photo: Millstream Animal Shelter
start of page
---
…Judge Ferne LeReverend noted Sanaee had claimed he loved dogs while testifying in his own defence, but said "no dog lover would subject an animal to a cattle prod," especially when it produces "extreme pain."... Full article here
start of page
---
CBC News, Sep 10, 2015
collars deliver an electric current to modify behaviour
excert...."The use of shock collars is generating debate after the Moose Jaw Human Society found a dog that appeared to have been injured by such a device."We took her over to the vet and after shaving her neck areas down they could tell it was damage from a shock collar," Kristyn McEwen, executive director of the humane society, said."... Full Article Here
start of page
---
By Sarah-Blake Morgan, WBTV March 12, 2016
excerpt... Over the weekend, Danielle picked Sophie up from daycare. When she got home she says she found what appeared to be a shock collar around her dog's neck. "It's like going to pick up your child at daycare and she have a shock collar on," Shroyer said. "Because I don't have kids."... Full story here
start of page
---
Unusual for a police dog in training to be brutally abused? It seems the facts say otherwise. Forced based harsh training with shock, prong and choke collars amongst other brutal treatment is entrenched in the culture of police dog training. How do we square the fact that we hire the mentality that would beat a defenceless dog to then serve and protect the people?
American News X June 30th 2015
Dog beating deputy sheriff Brett Arthur Berry of the Ramsey was charged with two misdemeanor offenses after video surfaced of him beating his service dog at the Black Bear Casino in Carlton, Minnesota. The incident happened on June 14th at that casino where the 48 year-old grown man was at a training event for his dog. Full article here
start of page
---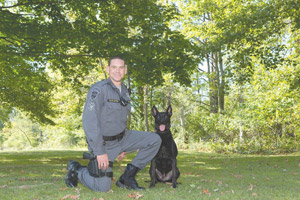 start of page
---
John Pirro 2013
DANBURY -- A Kohanza Street couple were accused of using an electric shock collar to discipline a 9-year-old girl and arrested by Danbury police Tuesday. The arrest followed an investigation that began last week after a school employee reported signs of possible child abuse. Full article here
start of page
---
Paula J. Owen June 2016 - telegram.com
excerpt...""When Mr. Keilch arrived to pick up Debo he was still wearing the same muzzle, had lost weight, was depressed and had a foul odor," the report said. Mr. Keilch took Debo to his veterinarian for immediate medical care, Debo was placed under anesthesia and "the tight-fitting muzzle removed." Article Here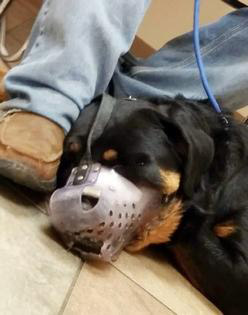 Board & Train dog muzzled for 8 days developed face swelling lesions, infection and suffered discomfort and stress.
Photo credit: Dog owner submitted photo to Telegram.com Worchester, Ma
start of page
---
WTPZ NewsChannel 5
Jun 4, 2008
A family came back from vacation and picked up their dog from a Vermont kennel only to notice injuries from a bark collar they say the kennel made the dog wear.
start of page
---
(location of a training facility called Maximum K-9: Remote Collar) Training,
Waxahachie Daily Light - July 23, 2015
"So when she came to my house and put a shock collar on my dog and immediately started using the contraption that she put on his neck, I just realized…" Full article here
start of page
---
Oct/2013 The Winchester Star - by Melissa Boughton
Winchester
excerpt …."Mr. Ebersole, who has been doing this for years, has his own methods of training," Inger said.
Those methods, as testified to by former employees of the pet care center, included shocking and throwing dogs, hanging them in the air by a choke chain until all four legs were off the ground and kicking them until they defecated themselves.Full Article Here
For more documentation please visit, http://www.aberdeencruelty.com. Please be warned the abuse he inflicted was severe and merciless. Witnesses stated he relished using shock collars to their maximum debilitating levels they were designed for.

Photo credit aberdeencruelty.com
start of page
---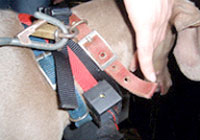 The Kennel Club's campaign to ban electric shock collars in the UK is back in the spotlight after more cases of cruelty were uncovered, highlighting the need for government intervention in the sale and use of these harmful, unnecessary and potentially dangerous devices.
The Independent Weimaraner Rescue and Rehoming Service is the latest in a long line of groups, organisations and individuals who have come forward to emphasise the terrible effects of using electric shock collars on dogs.
The latest case involves a Weimaraner dog who was found wandering the streets dangerously malnourished and underweight with an electric shock collar around its neck together with two collars, a chain and a padlock to ensure the shock collar could not be removed.
This page was printed from The Kennel Club
start of page
---
HORSES SHOCKED, ABUSED AT COLORADO RODEO
(caution graphic)
start of page
---
Posted: October 12, 2012 - 4:48pm
By EMILY RUSSO MILLER
A Juneau man has been charged with animal cruelty for allegedly injuring his Beagle by the continued and improper use of an electric shock collar.
Robert R. Petersen, 54, pleaded not guilty to the misdemeanor in Juneau District Court on Wednesday, and he is slated to go to trial in December.
Prosecutors say the dog, named Ares, sustained multiple wounds on its neck from the RC-8 Radio Collar from continuous wear from Jan. 1, 2011, to July 19, 2012, according to charging documents.
An affidavit filed by Assistant City Attorney Robyn Carlisle states the RC-8 Radio Collar is intended to keep dogs in an outdoor space, but Petersen told an Animal Control officer that the electronic fence is set up inside his home to keep Ares out of certain areas.
Petersen denied any wrongdoing to Animal Control, as the affidavit states Petersen said he did not see any signs of blood or injuries on the dog.
That's contradictory to a report submitted by the clinic director for Gastineau Humane Society, Dr. Rachel Berngartt, who examined the dog on July 21 and cleaned its wounds while it was sedated.
Her report indicated she observed two open "active" wounds on its neck from the prongs of the shock collar, as well as at least eight other distinct wounds around its neck in various stages of healing, according to the affidavit.
The underside of the dog's neck was shaved, but the fur had dried blood and fluid scabs embedded in it, said Animal Control Officer Ben Peyerk, who was present during the exam, according to the affidavit.
Peyerk said the two open wounds were red and swollen, and the worst wound was swollen approximately one and a half inches around and about half an inch high, the affidavit states. A hole the size of the shock collar probe in the center was about .375 inches deep, the affidavit states.
The prongs of the black and silver collar were approximately half an inch long, the affidavit states.
Peyerk said he removed the shock collar, which was in the "on" position, and found hair, dried body fluid, hair matted with scabs, blood and puss on the inside of the collar near the probes, the affidavit states.
"The probes that are brass were covered with the build-up of dried body fluid and were mostly black colored instead of brass colored," the affidavit says.
Berngartt said the dog was "repeatedly, knowingly injured by continued improper use of the electronic shock collar" over "some period of time" based on the stages of the wounds, the affidavit states. Read full article here
start of page
---
By MELISSA BOUGHTON The Winchester Star
Dec. 7/13
"…Ebersole was found guilty for cases involving:
Flash, a bloodhound kicked by Ebersole until the dog defecated on himself.
Abby, a poodle that Ebersole shocked numerous times, threw and jabbed with a wooden agility pole.
Achilles, an Italian mastiff that Ebersole choked until the blood vessels in his eyes burst."
start of page
---
Owner Russell Lee Ebersole Convicted of Animal Cruelty
Aug 18/14
One former employee told Deputy Megan Moreland that she was a trainer here from July to August of this year.
She says on several occasion she witnessed the owner, Russell Ebersole quote:
'Punch, kick, choke, throw, and shock dogs until the dog either went limp or urinated or defecated itself during training sessions'.
start of page
---
NEW YORK WOMAN FACES ANIMAL CRUELTY CHARGES FOR EMBEDDED SHOCK COLLAR IN DOG
SHOCK COLLAR EMBEDDED IN DOG'S NECK JULY 1, 2011BY: CHERYL HANNA - Examiner.com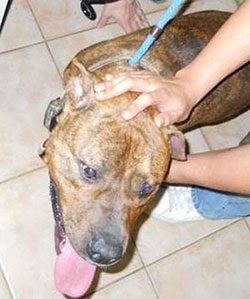 Mahopac, New York - Lynne C. Schiller-Petti, 49 faces misdemeanor animal cruelty charges in connection with her dog found to have had an embedded "invisible fence" collar in his neck. Authorities believe the collar was on the dog for an extended amount of time while the dog's neck grew around it.
Chief Ken Ross, of the Putnam County Society for the Prevention of Cruelty to Animals confirmed it was obvious animal cruelty.
Carmel Animal Control Officer Krickett Dyckman found the male pit bull named Zeus roaming along Route 6N. When she saw the embedded collar, Dyckman took the dog to the Mahopac Animal Hospital where a veterinarian removed it. There were three infected wounds that matched the three electric prongs of the collar. "Invisible fence" collars are designed to deliver short electrical shocks to an animal whenever they leave the property. It was obvious no one ever attended to the dog to remove the collar after an extended period of time
.
For now, Zeus is being treated and will remain at the Putnam County SPCA.
start of page
---
By Nicholas Phillips Fri., Nov. 11 2011
excerpt..."That dog was wild as the wind," Nelson says. "I told [the owner], 'We may have to use drastic measures to turn this dog around.'" In the video, Nelson and an assistant used both a whip and shock collar on Bo.
FULL STORY HERE
start of page
---
Chinook Observer The News Source For Washington's Long Beach Peninsula since 1900
By NANCY BUTTERFIELD
Observer correspondent
Tuesday, October 14, 2008
Editor's note: Caution - this story contains a disturbing account of cruelty.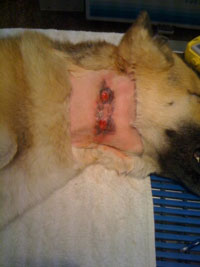 'A dog burnt by shock collar'
Courtesy of
Urban Dog Training
Excerpt..... Wetle outlined the animal-cruelty charges for the court Monday. He said on Jan. 20, 2007, Gordon and his hunting buddies, dubbed the "Kill 'em All Boyz," and their dogs, treed a raccoon. Gordon's dog, Copper, ran away. When the dog returned, Wetle said Gordon put a shock collar on him and continually shocked him, at the same time kicking him. According to witnesses, Gordon said, "I should just put a bullet in your brain."
Gordon continued shocking the dog, who had porcupine quills in his muzzle and throat, and became enraged. Witnesses said the dog was so badly injured he could barely walk and they were afraid he would kill him. They said he put another shock collar around the dog's genitals and said, "Watch this. I'll fry his balls." At this point, the dog was rolling in circles and Gordon continued to shock and kick him, then threw him in the back of his truck, saying, "I'll leave the quills in and I hope he dies."
Wetle said the witnesses tried to remove the quills, and Gordon had taped the dog's jaws so he wouldn't bite, then just gave up on him. They urged Gordon to take the dog to a veterinarian but he said he didn't want to spend the money. One of the witnesses offered to buy the dog from Gordon but he said no.
Gordon contacted a Longview veterinarian on Jan. 31, 11 days after the incident. Wetle said he walked into the vet's office with the dog, who was in respiratory distress. The vet said the dog's airway had to be cleared and estimated the cost at $865. She said Gordon was very condescending and walked out with no discussion about other options such as euthanasia or a sliding fee scale. He said Gordon told people the vet had said it would cost $3,000 to treat Copper. "The dog died because we don't have any money," Gordon said.
Because of the charges, Gordon, who was a registered nurse, had his license suspended in June by the Washington Department of Health. According to the DOH Web site, "The license of a Longview registered nurse has been immediately suspended on allegations of illegal hunting and animal cruelty, and because of comments he made that raised questions about his character and conduct." For full story
start of page
---
DUBAI POLICE FIND 'SHOCK' ROBOTS AT CAMEL RACES
By ASSOCIATED PRESS
01/20/2011 09:21
Dubai undercover agents say they've wrapped up a real sting operation — finding devices that delivered electric shocks to camels to make them run faster in races.
Media reports Thursday say two men are accused of selling the so-called "shock jockeys."
Small vibrating robot "jockeys" are used atop camels for racing in the United Arab Emirates. Authorities banned boy riders several years ago after complaints by rights groups. Reports say police posing as buyers arrested the suspects at a camel racing track. The units allegedly sold for up to 30,000 dirhams ($820) — about 30 times the cost for the regular robots.
Camel racing is a popular traditional sport in the UAE.
start of page
---
Toronto Sun
By DON PEAT, SUN MEDIA
Last Updated: 3rd April 2009, 2:06pm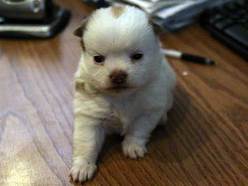 This pup was rescued from "conditions which were unacceptable," Toronto Humane Society officials said today. (Handout photo)
The Toronto Humane Society rescued five dogs from deplorable conditions last night. Two Portugese Fila dogs and three Chihuahua mixes including a puppy were pulled from a home for "conditions which were unacceptable for animals to live in," society officials said today. Investigators had visited the home in the past and issued orders but received new information that the conditions had deteriorated again. The two Portuguese Fila dogs were found chained up in the backyard with shock collars around their neck. All the animals were taken to the River St. shelter.
"I am happy to see the animals out of the terrible and neglectful conditions," said senior agent Tre Smith. Officials said evidence is being collected to determine future legal action.
start of page
---
Chicago Reader April 6,2007
The arrest of "dog whisperer" Ami Moore for cruelty to animals raises questions about an unregulated industry. By Tasneem Paghdiwala April 6, 2007
Excerpt... During Memorial Day weekend, Heather Davis had been walking her long-haired Chihuahua with her fiance in Skinner Park and saw Moore training a Bichon Frise, a tiny breed the American Kennel Club refers to as a "white powder puff of a dog." She says she was surprised to see that it was wearing two electronic collars, one on the neck and one around the rearmost part of its waist. Moore, she recalls, was yelling at the Bichon to join a group of frolicking dogs in the middle of the park, repeatedly pressing a remote control and shoving the dog hard with her foot. "The dog was yelping, a lot. It was obviously scared—it just wanted to curl up in a ball," she says. "It was even making my dog scared." At one point, she says, the Bichon dashed across the park to cower under a stroller.
"I went up to Ami and I said, 'Hey, your dog's over there.' She ignored that and started introducing herself to all of us as this great trainer and saying how she invented this training method, like she had forgotten all about the dog. I asked what was going on with the Bichon, and she said, really annoyed, 'That dog has been nothing but a third tit on its owner, and I have to break it off and retrain it to be a dog.' I just walked away, shocked." For full story
Update The Dog Whisperer Walks Trainer Ami Moore is acquitted on animal cruelty charges.
start of page
---
by Brooke Richie DALLAS (CBS 11 News)
One North Texas family says when they went away on vacation, the kennel they paid to take care of their dog used a collar that delivers a shock to a dog when it barks.
While Sutton the Dog's owners were in Hawaii, she stayed at the Park Cities Obedience School and Dog Daycare in Dallas. 
"This dog's a real rambunctious player and barks a lot, barks almost constantly," said Phillip Marr, the owner of the dog daycare. 

When Sutton returned home, her neck was dotted with puncture wounds.
I thought she'd been attacked by another dog or something, because she had three open wounds and her neck was burned from ear to ear," said Sutton's owner, Mandy Parker.
Sutton's other owner is a CBS Network sales employee who brought these injuries to our attention.
The Parkers' concern turned to anger when they learned the wounds were from a bark collar.
"We've never put a shock collar on Sutton, and we would never allow someone else to," said Mandy.
Marr admits that the collar was probably left on too long. But he calls the bark collars "a pretty accepted thing in all dog training. I've never known very many people that didn't use them. Almost everyone uses them for an excessive barker."
He said the injuries were "a terrible accident… It actually worked around to the side of the head, and in all his rough play and rolling around, got too much pressure on the side of his neck and actually put the marks on the side of his neck."
We sent these pictures to Dr. Bonnie Beaver, a professor of small animal medicine and surgery at Texas A&M's College of Veterinary Medicine.
She says the brown spots on Sutton, "suggest that the collar had been on for a while... perhaps longer than a day."
Beaver calls bark collars "inhumane" and says, "They should never be used."
In fact, 15 kennels in North Texas said they never use bark collars.
Lisa Praeger, training director at Country Acres Kennels, says they never should be.

"That is absolute abuse and ridiculous," she said. "That punishment does not justify the crime under any circumstance."
"If they did not have that specifically stated in their boarding released, that they do use anti-bark collars, then I think it's an inappropriate act," said veterinarian Erica Erickson.

Marr says he will change his boarding release to include permission to use bark collars.
The American Boarding Kennels Association says there's a lesson here. A pet owner should always ask before they board. 

Sutton's owners now know better.
"We'll definitely research that before we ever board her again," said Mandy.
Park Cities Obedience School and Dog Daycare did take Sutton to the vet when they noticed her injuries. They also paid for the vet bill and the boarding.
They also released a statement in response to this story.
But Sutton's owners say they will never go back there.
(CBS 11 News)
start of page
---
KFOR-TV – July 12, 2013
"HINTON, Okla.– Authorities in Caddo County are investigating a horrific case of child abuse after a Hinton man allegedly put a dog shock collar around the neck of a 3-year-old little girl. Neighbors say the family always seemed very nice and they never suspected this kind of abuse could happen just next door. Investigators say a 3-year-old girl was abused by her mother's boyfriend, 35-year-old Robert Allen Seyler. Chief Shanon Pack, with the Hinton Police Department, said, "Hit, kicked, forced to hold a heavy back with weights in it and that also she had been shocked with an electric dog shocking collar." Read full article here
start of page
---
Pet News Examiner
January 31, 12:47 PM Pet News Examiner Helena Sung

An Ohio man was sentenced Friday to 16 years in prison for abusing and torturing his children. David O. Liskany, 39, admitted that he "disciplined" his children--ages four, 11 and 13 at the time--by holding them underwater, forcing them to take cold showers, spraying water up their noses, and using a dog's shock collar on them. He had been convicted previously for burning one of his children's feet with scalding water.
The abuse came to the attention of law enforcement in December 2007 when Liskany's oldest son was reported missing. The boy, then 13, had fled the house after an altercation with his father. The teenager walked 15 to 20 miles through a snowstorm to seek safety at a relative's home.
Liskany was arrested and charged with 10 counts of felony child endangerment. He pleaded not guilty and was released on $25,000 bond.
In October 2008, Liskany cut a deal with prosecutors and agreed to plead guilty to two counts of felonious assault and one count of attempted felonious assault.
At his hearing on Friday, the judge was harsh and frank. Judge J. Timothy Campbell sentenced Liskany to 16 years in prison (six years each for the assaults and four years for attempted felonious assault) rather than the four years recommended by state probation authorities.
"You have damaged your children for life. You don't put shock collars on children. When you hear this it sounds like something from Guantanamo Bay...The only thing you didn't do is wrap their faces in cheese cloth, but basically they were water boarded."
--Judge Campbell, in sentencing the abusive father
Sheriff's Capt. Eric Spicer said it was the worst abuse he's ever seen. "No doubt about it," he said. "This was a prolonged period of abuse that was systematic."
Meanwhile, other people showed up at the sentencing hearing to ask for leniency, including Liskany's ex-wife.
"My children did not wish for David to be prosecuted. I don't feel that incarcerating him will help."
--Wendy Liskany, ex-wife, asking judge for leniency
Liskany's attorney said his client "had expressed remorse and was no longer a threat to his children because he had been ordered to stay away from them."
Judge Campbell didn't buy the ex-wife and lawyer's pleas, finding that the ex-wife was partly responsible for knowing and allowing the abuse to occur.
Liskany also spoke on his own behalf. "I just want the opportunity to try and be a father. That's what I was trying to do, be a loving father." --Liskany, who abused his children, to judge at sentencing hearing
Using shock collars on dogs is controversial. Some claim it is an effective training tools, while others say it is inhumane.
Dr. Bonnie Beaver, veterinarian at Texas A&M University College of Veterinary Medicine & Biomedical Sciences, says that the collars, in theory, are meant to provide an instant punishment, but that in reality, "the potential for over use and abuse of these devices far outweighs the benefit."
"These devices [shock collars and fences] can provide an excessive punishment to the point that the dog is terrorized. They can be ineffective because the amount of shock is too little (poor contact, too much hair, weak battery).
They can be used out of context (remote control) because the owner is mad at the dog and "zaps" at an inappropriate time out of anger.
It can also do significant psychological damage to a dog that does not connect the shock with the reason for the shock. The shock is generally considered to be inhumane."
--Dr. Bonnie Beaver, veterinarian at Texas A&M
start of page
---
Orlando News
POSTED: Monday, March 20, 2006
UPDATED: 9:25 am EST March 21, 2006
A 45-year-old man in Cedar City, Utah, is accused of using electric dog shock collars to discipline his two children, according to a Local 6 News report.
start of page
---
CONFLICTS IN K-9 UNIT HAD 'FESTERED'
Herald Tribune - Sarasota Florida
By MIKE SAEWITZ
Published: Wednesday, January 1, 2003 at 2:54 a.m.
Last Modified: Wednesday, January 1, 2003 at 12:00 a.m.
Excerpt…. In a late October training exercise, supervising K-9 Officer Alan Devaney instructed Officer Christopher Hunt to shock his dog in the groin to make him let go of a mock suspect.
An electric collar in his left hand and its control in his right, Hunt reluctantly lunged at the dog. Brisco saw the shock coming and bit Hunt's left forearm, sending him into emergency surgery and putting him out of work for three months.
The incident was described as an "unfortunate training accident," but Hunt's injury was the culminating event in a yearlong saga that pitted four K-9 officers against Devaney in a debate that began over safety tactics but ended in a series of personal attacks.
In one of his first major decisions, new Sarasota police Chief Peter Abbott disbanded the K-9 team last month.
start of page
---
Action3news.com - Omaha, Nebraska
November 12, 2009
Lincoln, NE - A Lincoln man has been cited for Child Abuse after allegedly using his dog's shock collar on a 17-year-old with cerebral palsy and shaken baby syndrome. For full story
start of page
---
May-06-2009
Salem-News.com – Serving Oregon & the Pacific Northwest with Local, National & Worldwide news The children, ages 9, 8, 6 and 3 were released to the custody of their mother and the case referred to DHS.
(SALEM, Ore.) - Salem Police detectives have arrested a Salem father for using a dog shock collar on his four children. Salem Police Lt. Dave Okada says the man, 41-year old, shocked the kids because he thought it was funny... For full story
start of page
---
By Trent Faris
"She said this is not abuse this is discipline," said Burch. …full story here
start of page
---
Police: Stepdad Used Electric Collar on 8-Year-Old Because She Didn't Eat Breakfast Fast Enough
excerpt...
According to the criminal complaint against Majeres, the girl told investigators that her stepfather put the shock collar – which he normally used on the family dog – on her leg. Using a remote control, Majeres allegedly set the collar to level "4" and zapped the girl.
The girl, investigators say, told them that her stepfather said she was lucky he did not set the collar to "6," a level he uses for the dog, and that he threatened to shoot her pet rabbit while she was at school because she does not take care of it ..... Full Story
start of page
---
by the Coloradoan Subscription on Friday August 5, 2011 at 1;24 pm
A small group of dog enthusiasts protested punitive training methods Friday at Larimer County Justice Center, where a Loveland dog trainer accused of beating and punching his own dog appeared in court.
excerpt...
the dog misinterpreted a hand gesture and came toward him, so Matthews used the remote-activated shock collar, and the dog "whimpered" as it returned to the spot where it had been, she said. "If some think it's OK to use punishment in their training methods, it doesn't surprise me they'd use physical methods to correct or train dogs," Myers said. Full Story Here
Update: Trainer agrees to relinquish dogs in plea deal
start of page
---
PROBE INTO PET FACILITY CONTINUES MORE ABUSE CLAIMS
By Sarah L. Greenhalgh The Winchester Star December 3, 2011
Frederick County Sheriff's Deputy Megan Moreland, with the Animal Control division, is the investigating officer in the Aberdeen Acres alleged animal abuse case. (Photo by Jeff Taylor/The Winchester Star) Frederick County Sheriff's Office Deputy Megan Moreland, with Animal Control, is investigating allegations of animal abuse at Aberdeen Acres. (Photo by Jeff Taylor/The Winchester Star)WINCHESTER- She tries to speak for those who cannot. Deputy Megan A. Moreland of the Frederick County Sheriff's Office Animal Control Division works with victims that cannot tell her what has happened to them. Full article here.
start of page
---
The Huffington Post Andy Campbell
First Posted: 01/26/2012 10:24 am
A Florida man is behind bars after cops say he brutally tortured two young girls by using a dog shock collar to punish them....Full Story
start of page
---
CBS DENVER May 24/12
excerpt... The Motts were arrested in April after court records claim George, Paulin-Ramirez's stepfather, slammed a dog to the ground and then said "That's how I get kids and dogs to listen, and how I discipline them." George Mott also allegedly used an electronic dog collar on the boy as well as wrapping a belt and his legs around the boy's neck."There were marks left from that and there was a dog collar that apparently was powered — like you might use to shock a dog — that was also used on the child," said Leadville police spokeswoman Betty Benson said. Full story here
start of page
---
BUTLER, Georgia - NBC/WMGT
Smith says agents seized a canine shock collar from the home of Sam and Diana Franklin. It's believed to have been used on their 15-year-old adopted daughter as a form of punishment. Full story here
start of page
---
July 29,13
KNOXVILLE, IA.A central Iowa man has been accused of placing a dog shock collar around the neck of his 12-year-old son in an attempt to discipline him. An affidavit by Knoxville police said Daniel Hardwick, 35, put the collar around his son's neck and shocked him to motivate him to do chores.
Full article here
start of page
---
Salt Lake Tribune
Prosecutors have charged a Cache County woman with using a dog shock collar to punish two of her adopted special-needs children..... full article here.
start of page
---
Daily Reporter Greenfield, Indiana, April 2014
BROOKS, Maine — The Waldo County Sheriff's Department says a Maine man used a shock collar intended for animals on his son...Full article here.
start of page
---
sheboyganpress.com Sept.12/14
start of page
---
KFOR.com Dec. 2014
excerpt…Kibby allegedly forced the victim to wear an anti-bark shock dog collar, causing scarring on her neck.
Full article here.
start of page
---
James Fisher, The News Journal August 2015
Lawyers for Derrick Powell, the death row inmate convicted of fatally shooting Georgetown police officer Chad Spicer, have filed post-sentencing appeals asserting prison guards eavesdropped on video conferences with his trial lawyers, spit and urinated in food and made him wear an electric shock collar….
Full article here
start of page
---
WLTZ 38 NBC November 2015
The victim says her mother would attach two dog shock collars to her body and press the button to send an electric volt through her when she refused ... Read more
start of page
---
25 May 2016 by Andrew Clark; The Press & Journal
start of page
---
CBC Philly, April 2017
Full Article Here
start of page
---
News 4SA.com, San Antonio, 2017
Full Article Here
start of page
---